If you enjoyed trekking with us, we would appreciate to get a short feedback from you.
Feei
from Malaysia

wrote on

Dec-30-2019

:

My husband and I brought our 8 year-old son went for 3D2N trekking in Sapa with Sisi. She was caring, helpful, friendly and professional! She spoke good English, we had learnt local culture from her while she led us walked thru the beautiful remote area. We also appreciate the assistance she had given to our son when walking on difficult path. We had great time with Sisi and my son missed her after we went home. We looking forward to go trekking with Sisi again in the future!
Ivan and Prim
from Singapore

wrote on

May-10-2019

:

We have been to Sapa 3 years in a row. This year we opted for a more remote route where there are fewer tourists and hope to see a new tribe. We reached Nam Sai village and were introduced to the Xa Pho minority. A couple of friendly local kids came by to walk with us and we shared some eggs as snacks. Essentially Sisi is a capable guide able to communicate well in Vietnamese, Hmong and English. She advices, tailors to our hiking needs ito places to visit, travel modes, with local knowledge. Whether you are here for a short hike or a longer trek, Sisi makes a wonderful guide and companion along the journey.
Gayle Buttrose
from Australia

wrote on

Apr-03-2019

:

In February 2019, my daughter and I spent three wonderful days in Sapa with Sisi. Sisi is a lovely person and a great tour guide. She looked after us, and gave us an amazing insight into the local culture. Sisi has excellent English, and shared many stories about the day to day life of the villagers in the area. She has a great sense of humour, and the daily tours were so much fun. We felt very privileged to have met her, and to have spent time with her, even if it was not long enough! I would strongly recommend using Sisi's tour guide services, if you are ever in Sapa.
Anke und Stefan
from Germany (Deutschland)

wrote on

Apr-17-2018

:

We booked a 2-day tour for 2 people with Sisi in November 2017. We were very satisfied and can recommend this guide absolutely. Sisi is a very professional guide! Very good local knowledge (native), the program was varied and we could bring or discuss our own wishes. The organization of the program including temporary driver was perfect. Sisis English was very good and also understandable for visitors who do not speak english well. Thank you, we will gladly come again. Anke and Stefan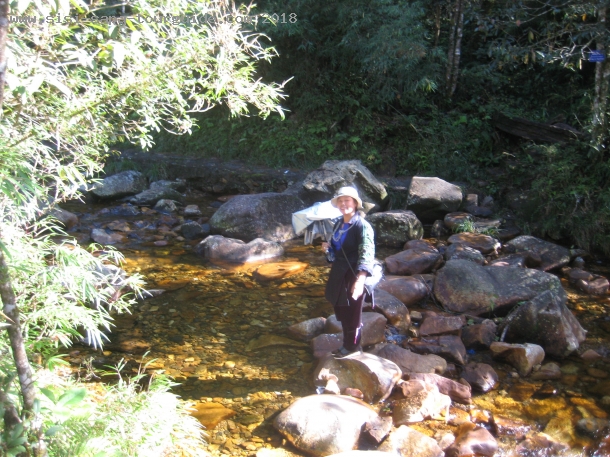 Philipp
from Germany (Deutschland)

wrote on

Apr-01-2018

:

We spent three wonderful days with Sisi in Sapa. She picked us up from our hotel on time and gave us a perfect first impression of what we could expect throughout the next couple of days. To walk with Sisi was by far the best decision and we really enjoyed the trip. She answered all our question in perfect english and took care of our well-being at all time. We stayed the nights in two lovely homestays. The locals prepared diner and breakfast ,so we didn't have to care about anything. Roberta and I can definitely recommend Sisi as a tour guide. It was an amazing trip we will never forget. Thank you again for everything Sisi and hopefully we will meet again some day.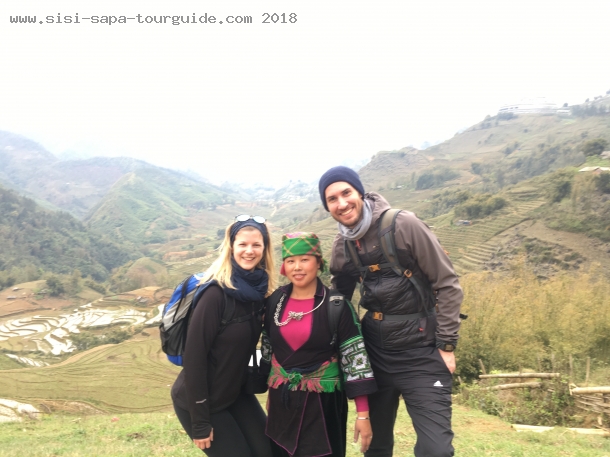 vigi urman
from Israel (‫ישראל‬‎)

wrote on

Jan-27-2018

:

january 18 It's been couple of weeks since we traveled with you and we are missing you a lot! The trip was interesting, you are an amazing tour guide and we had a good time spending with you. We hope that some day you will fulfill your dream and you will have your own resturant. best regards, Itshik and Vigii from Israel

i want to say thank you very much SISI we enjoyed alot with you!!! SISI IS VERYPROFSSIONAL!!

THANK YOU!!!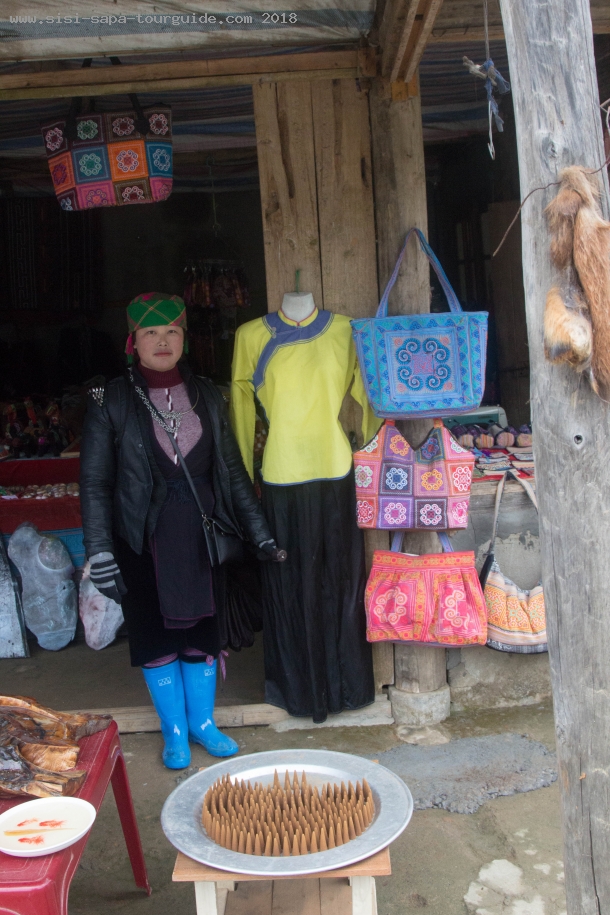 Johanna and Phillip
from Germany (Deutschland)

wrote on

Aug-28-2017

:

Dear Sisi, One year ago, we had a perfect tour with you and you showed us around the beautiful region of Sa Pa. We promised you to give you a feedback on your website - and honestly, we forgot. I just found a polaroid of our trip with you and it reminded you that we never wrote you how awesome the trip with you was. When people ask me, what to do on their journey to Vietnam, your tour is the first thing I tell them to do, because it was one of my favourite trips on our 3-week vacation there. It were two pretty rainy days, but we made the best out of it. You told us a lot of stories about the tribes living there, who belongs to which village and we talked about how your daily life is different from our life here in Germany. I still know what you told me about the ginger, growing just outside and tasting a hundred times better than what we get here on any market. It just didn't feel like a hike with a tourist guide that we just booked, it was a lot more like a normal hike with a friend who lives there. At the moment, it looks like I will come back next year with a friend, so I will probably write you to make another hike with you and I hope we see again. All the best from Germany, Johanna PPS: I know, you will be shocked. But I am turning 25 this year and there is still no marriage or a baby in sight - I'm sorry!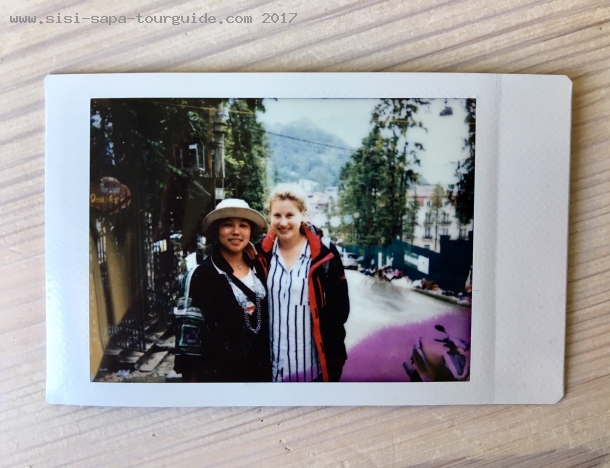 Ruth Brocklebank
from United Kingdom

wrote on

Jul-28-2017

:

An amazing amazing guide!!! We had a truly wonderful time exploring this incredible area with Sisi. She was welcoming from the moment we met her, with excellent English and great local knowledge. We thoroughly enjoyed walking for two days with her, she goes at your pace and always seeks to make the trip perfect. She gives you...
Sharon Cooper
from United States

wrote on

Jul-09-2017

:

We spent 2 days in Sapa, most of the time spent with Sisi (and if not with her, visiting a location based upon her recommendation). Sapa is a great place to visit, but the trip was amazing purely because of Sisi. She greeted us with the warmest, most inviting way possible, ready to build, customize, and tailer a trip to our liking. She was prepared to sit for lunch, or hit the ground running to our liking. Sisi was knowledgeable, spoke perfect English, gave amazing insight, and was kind enough to share a true inside look at her life, which was so greatly appreciated. Can't thank Sisi enough for a great trip...she is highly recommended...you won't be disappointed!
Paul and Chris
from Australia

wrote on

Apr-10-2017

:

We visited the hilltop regions of Sapa in March 2017 and were fortunate to have Sisi as our guide. This lovely lady is very knowledgeable and has an excellent command of English. Sisi guided us thorough challenging and remote areas for 2 days and never failed to impress with her knowledge of geography, culture and history whilst keeping us entertained with her warm personality and humorous comments. Being with Sisi was an absolute pleasure.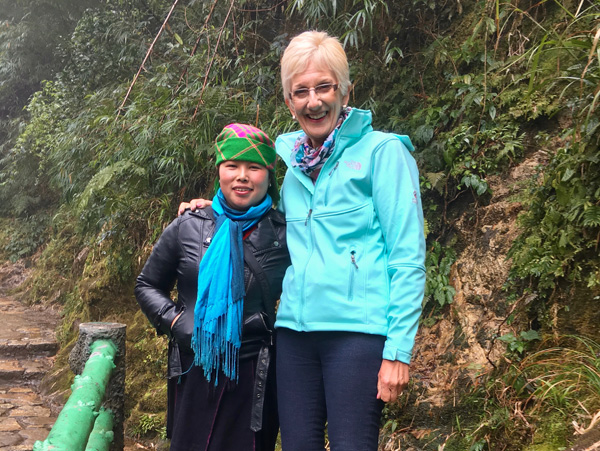 Nico
from France

wrote on

Nov-22-2016

:

Thanks to Sisi, we spent marvellous trekking days (November 2016) in mountains of Sapa to reach Hmong and Red Zao villages. Words are not enough to describe Sisi Sisi is a delightful and warm person, a person of an overflowing kindness... Her local knowledge is inexhaustible... Her English is perfect, even better than ours :-) Do not hesitate if you're looking for a guide at Sapa : Sisi is the one She is engraved in our heart, it will be with great pleasure to come back to meet you again...Take care ********************************************************************************************************************************** Grâce à Sisi Nous avons vécu un voyage/trekking merveilleux (novembre 2016) dans les montagnes de Sapa, pour arriver au sein des villages Hmong et Red Zao Les mots ne suffisent pas pour décrire Sisi Sisi est une personne d'une gentillesse, d'une délicatesse débordante et tellement chaleureuse... Son savoir local est inépuisable...Son anglais est parfait, et meilleur que le notre :-) Sisi est gravé dans nos coeurs, ce sera avec un grand plaisir que nous reviendrons te revoir...Take care
Jaap Zoetmulder
from Netherlands (Nederland)

wrote on

Nov-15-2016

:

Last month we had a three day tour with Lam. We travelled a month through North and South Vietnam, but these three days with Lam were the most beautiful of the whole holiday. Not because it was such nice weather. No it was very rainy. But her beautiful and moving stories about nature, her tribe, her family were heartwarming. Her face and smile for us as the sun. She is very reliable, sweet, honest, sincere and above all she knows the area as her pocket; in the mist she knows the right path. She is an amazing guide and a remarkable wise and inspiring woman. She will stay in our hearts. Thank you Lam!
Francois and Alexandra
from Netherlands (Nederland)

wrote on

Oct-04-2016

:

We were 3 days in Sapa and decided to do 2 halfday trips and 1 day trip. We found the right person to do the trekkings these days. Sisi waited for us when we arrived by bus and took us to the hotel we booked ourselves. She is really an amazing guide and really sweet person. Do not hesitate if you're looking for a guide at Sapa. We did private trekkings for a good price. Thank you my friend...... we had an unforgettable at Sapa thanks to you.
Kris and Leah
from Australia

wrote on

Feb-29-2016

:

Sometimes you get lucky when you book a tour - sometimes you hit the jackpot. Such was our experience in Sapa when Sisi met our tour group of four a the rail station at Lao Cai after the overnighter from Hanoi. First things first - introductions to know who we were, and never having to remind our names again. All discussions were peppered with laughter, attentiveness and with our names - evidenced that whilst with Sisi, we were her priority. It was a cold morning, with rain threatening. After a quick breakfast, Sisi guided us to a H'mong village market, and on arrival Sisi walked us through pointing out the details that we would otherwise miss. Sisi is proud of her heritage and with a strong grasp of English can provide a colourful and powerful commentary to what we were seeing. We were intrigued how close to the Chinese frontier we were (think a narrow river width), and Sisi offered to take us to the frontier border bridge to see first hand. As we travelled on to Sapa, Sisi continued to chat with us and provided an unaffected candour to her life story. The next morning Sisi met us at our Sapa hotel for what was a genuine highlight of our trip - trekking through mountain paths and through three local villages to get a basic understanding of what life is like for the locals. Sisi stopped into a home in a village where some of the colourful clothes of the village were being made. She took straws of hemp, effortlessly stripped it to fibre, joined it into longer thread and explained the hemp cloth making processing from her own experience - Sisi makes all the cloths for her own family from scratch, including the indigo dying - her darkly stained hands testimony to the story. Over a beer back in Sapa that afternoon we were all amped about the experience of the days - the scenery, the fortune of the weather clearing , but mostly at the opportunity to spend time with someone as genuinely enthusiastic as Sisi. What we took from our time with Sisi is that it is not what your lot in life is. it is how you choose to live it. A genuinely inspiring young lady. If organising a trip to Sapa with guided support, we cannot say enough about this lady. Thanks Sisi!
Don and Donna Hall
from Canada

wrote on

Feb-14-2016

:

My wife and I have just returned from a ten week tour of Vietnam, Laos and Cambodia. During that time, we enjoyed the company of eleven different guides. Each had strengths and weaknesses. Of all of the guides, Sisi had the best combination of communication skills, knowledge and perhaps that most difficult intangible for a guide - the ability to be available but not smothering. She definitely knows her area. She is welcomed by everybody in the area. She is obviously respected by the community, from the children at the schools, through the farmers in the villages, to the people in the markets. I would unhesitatingly recommend her services to anyone looking for an authentic tour in the Sapa area.
ruth and ronen
from Israel (‫ישראל‬‎)

wrote on

Jan-28-2016

:

we just finish a day and hulf tour with sisi and decided in one loud and clear voice "sisi is the best !".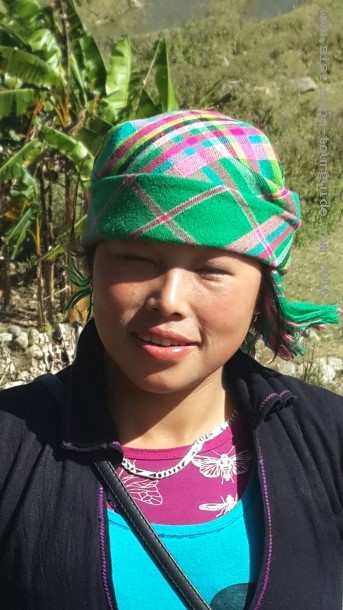 Sandra and Rob
from Germany (Deutschland)

wrote on

Jan-03-2016

:

We had a two days trekking tour with Sisi. It was amazing!!Sisi is the best guide we had in Vietnam. She is very friendly, showed us very good places and explaned a lot about the living of the people in the villages, the landscape and the food. She speaks very good English. Thank you Sisi for two wonderful days with you we keep you in our heart. :-)
Misa Nguyen
from United States

wrote on

Sep-26-2015

:

Wow. Amazing. I had the pleasure of discovering Sisi through a backpacker I met in Chiangmai, Thailand, who recommended me to book my SaPa tour through her. My impressions strengthened even more when I had the opportunity to speak with her directly on the phone and plan the itinerary for our 3 day, 2 night tour. It was easy to combine both the Market Hill Tribe tour and the Trekking tour according to what we wanted. Sisi is easily once of the most kind, charming, and friendly person I had met throughout my travels. She is extremely knowledgeable about the land, local tribes, food, plants, and can take care of finding the right places for you to stay and eat. She is also extremely flexible and can suggest extra activities on the side if you are open to them. Sisi is now a dear friend to me and I have the highest recommendation for her! Thank you so much!
Russell Knight
from Australia

wrote on

Aug-29-2015

:

On our recent trip to Vietnam we spent 3 days in Sapa. We had the services of Sisi as our guide. What a delightful person she is. She speaks excellent English, is witty , humorous and always has her customers in mind in choosing where and when to visit certain places. We found her charming and unfazed attitude very comforting to be with. She has excellent local knowledge and we wish her all the best for the future. You cant go wrong with this lady.
Howard Bergman
from United States

wrote on

Jul-30-2015

:

We spent two days hiking with Sisi, and we had a great time. In fact, hiking with her was a highlight of our trip to Vietnam. Sisi is an outstanding guide. She clearly knows the Sapa region, its people and their customs, and she is shared interesting observations and insights as we wandered along the trails. But equally important, she is a delightful person to spend hours with. She has a gentle spirit and a wonderful sense of humor. She is accommodating to the abilities and interests of her clients - all of her suggestions for our routes were perfect for us. I hope to return to Sapa - if I do, I will definitely ask Sisi to be my guide.
Ran Gill
from United Kingdom

wrote on

Jul-01-2015

:

Sisi - Thank you so much for a wonderful tour of Sapa and the accompanying tribal villages! It was an absolute joy to have such a well-educated and knowledgeable local guide to spend 1.5 days with. Sisi is completely wonderful - really patient, helpful, down to earth, accomodating as well as having a great sense of humour (ok! it was my fault I jumped into the rice paddy trying to look cool!) I will always cherish the memories of my short stay in Sapa and hold the experience of the trek close to my heart. Miss vietnam dearly!! Thank you so much and please keep in touch! Your friend, Ran
Laurence and Family
from Singapore

wrote on

May-13-2015

:

Thank you very much Sisi for all the great time we had in Sapa last week! We enjoyed a lot having you as a guide. Thank you for sharing these pieces of life of Sapa villages, It was so fascinating. I fall in love with this gorgeous place. Remember one thing: believe in your dreams! Take care and hope to meet you again! Laurence & Family
Mackenzie Dodd
from Australia

wrote on

Oct-28-2014

:

We spent a few days in Sapa with Sisi going around the mountains a while ago and i am still speaking with Sisi today, through this experience i have gained great memories and a great friend, i will never forget Sapa.
Christian
from Germany (Deutschland)

wrote on

Oct-17-2014

:

I had some beautiful days in Sapa at the beginning of the year. It was great to walk with Sisi and her friend's and family. The landscape was great, also the contact with all the people. Thanks for all.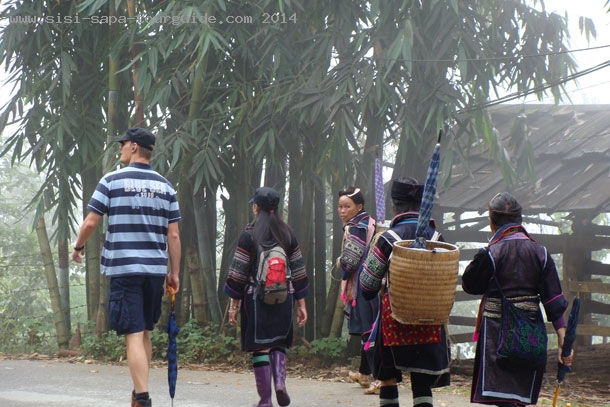 Erik
from Netherlands (Nederland)

wrote on

Oct-15-2014

:

We did a 2 day trip, it was awesome. This trip was one of my highlights in Vietnam. It was also great to eat and sleep at the locals. The nature was fantastic and the hiking route also. We will recommand you to our friends and family. Thanks for sharing our pictures on your website. Sisi i think you are one of the best tourguides and your english was perfect. Greetings from Holland
PAOLO BROGI
from Italy (Italia)

wrote on

Oct-12-2014

:

Stefania&me we had a great trip in SAPA. If you go to Vietnam I do suggest to visit that area: nice place, nice food, really nice people. But, on top of that, don't forget to contact SiSi…she is a high professional guide but overall, she is a really great person. We enjoyed a lot her hospitality! Grazie di cuore SiSi!!!!! Paolo&Stefi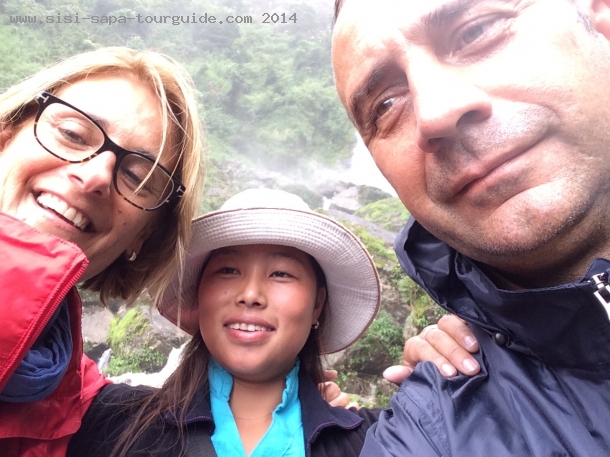 Laurel and Fred
from Canada

wrote on

Oct-05-2014

:

We had Lam for our guide when we visited Sapa and the Bac Ha Market in February 2014. It was an amazing visit. Lam's English was great and she was fun to spend the day with. We met SiSi and chatted over a meal. I would highly recommend a trip to Sapa and if you go, definitely use Sisi or Lam!! We hope to go back one day when the rice terraces are green as we missed that.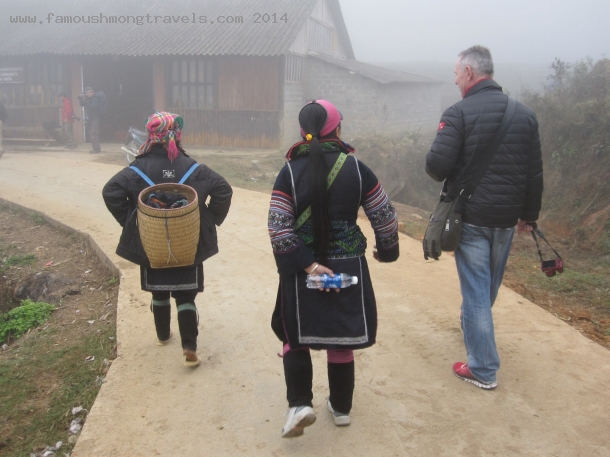 Alex
from Netherlands (Nederland)

wrote on

Oct-01-2014

:

SiSi you are an excelent tourist guide. We really enjoyed our trip in Sa Pa. You was a really helpful person. Thank you very much for the lovely time in Sa Pa and your hospitality. We will recommand you to our friends and family. We will going to sent you the pictures from our trip soon as we are back at home. Thanks so much for the great trip! from Alex
Contact
Sisi Sapa Tourguide

Sisi Giang
Sapa / Lao Cai Province / Vietnam
E-Mail:
+84 97 995 08 21
+84 94 801 56 50